Solana price rally risks exhaustion after SOL's 120% pump in 2 weeks
The price of Solana's SOL (SOL) cryptocurrency is up an impressive 60% since the new year, partially boosted by hype surrounding meme cryptocurrency Bonk. However, the SOL/USD pair now shows signs of exhaustion, raising anticipation that the token may see a short-term correction in the coming days.
SOL turns overbought
SOL has been one of the best-performing cryptocurrencies so far in 2023, after being one of the biggest losers in 2022. 
On Jan. 9, SOL's price jumped to as high as $19.50, or gains of around 120%, in a recovery rally after sliding below $8 on Dec. 29, 2022.
But the price spike also turned SOL into an overbought asset, per its daily relative strength index (RSI) reading above 70, as shown below.
Traditional investors typically see an overbought RSI as a potential sell signal, given that the indicator has historically coincided with a period of buyer exhaustion. As a result, SOL's price could enter a correction or a sideways consolidation stage to bring its RSI back below 70.
Related: Bitcoin price taps $17.5K as traders in 'disbelief' doubt crypto rally
Should that happen, the Solana token's next downside target appears at around its 50-day exponential moving average (EMA) — the red wave — near $14.50.
Meanwhile, an extended sell-off could land the price near its 20-day EMA — the green wave — near $13.35, or a 20% correction.
Buy the SOL price dip? 
On a longer-timeframe chart, however, SOL eyes a decisive breakout move above its prevailing resistance level of around $17.50.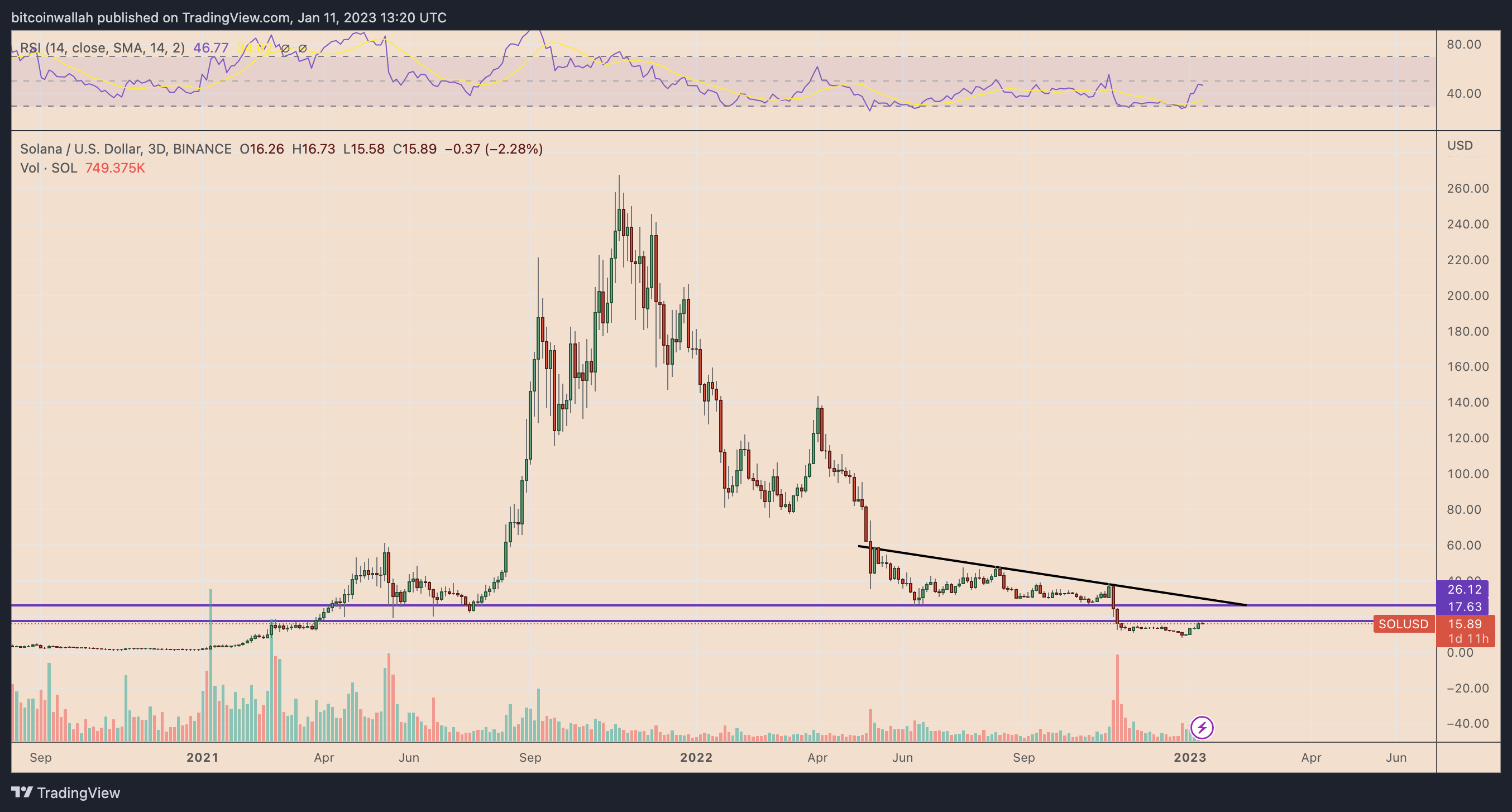 The $17.50 level was instrumental in capping SOL's downside attempts in the April–July 2021 session. Therefore, a successful flip of the resistance level into support could prompt traders to open new bullish positions toward $25, a level coinciding with SOL's descending trendline resistance (black).
Conversely, failing to flip the $17.50 resistance level could risk sending SOL back below $8, a possibility if one considers the negative fundamentals surrounding the Solana ecosystem.
This article does not contain investment advice or recommendations. Every investment and trading move involves risk, and readers should conduct their own research when making a decision.
Products You May Like