Sell Pressure Mounts On Bitcoin As Miners Offload More BTC
CryptoQuant data on January 20 shows an unusually sharp spike in Bitcoin miners' outflow, an unexpected development considering the solid performance of BTC prices in the past few trading days.
Miners' Position Index (MPI) Rising
The Miners' Position Index (MPI) is up from -0.85 registered on December 31, 2022, to +3.25 on January 19, 2023. The expansion could indicate that miners are moving their coins, at a faster pace, to centralized exchanges. 
The MPI is a moving ratio between the total miner outflows to the total one-year moving average of the total miner outflows. All denominations are in USD.
Per CryptoQuant's interpretation, the higher the MPI ratio, the higher the odds that miners are sending mined coins to centralized exchanges, heightening the risks of a price plunge.

For a wholesome picture, it is recommended that the MPI be used with other metrics since there are assumptions that miners are expressly selling their coins in top exchanges like Binance, Coinbase, or even in over-the-counter (OTC) exchanges.
Nonetheless, when used with different technical indicators, MPI flows can provide a rough indicator of Bitcoin miners' financial state. The actions of the miners may provide an indication of where the market might be headed next.
In proof-of-work networks like Bitcoin, miners are compensated with coins to secure the platform against external attacks and confirm transactions. Bitcoin distributes 6.25 BTC for every block they successfully mine. This translates to around $131,000 in BTC. A block is released roughly every 10 minutes.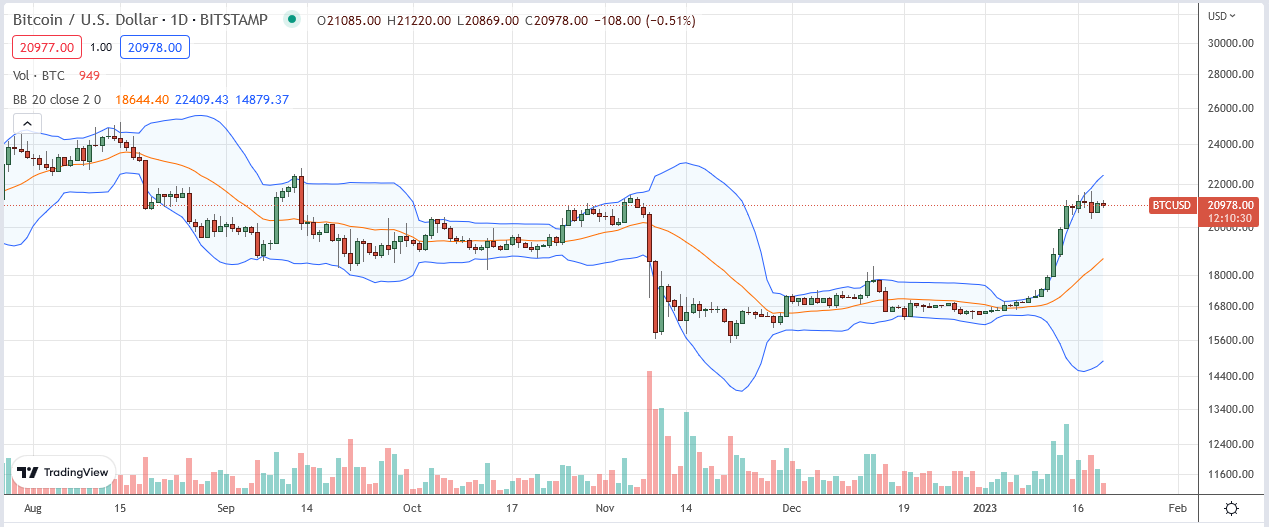 The price of Bitcoin explains the higher interest from miners compared to other proof-of-work networks like Litecoin. With a hash rate of 275 EH/s as of January 20, Bitcoin remains the most secure blockchain by this metric.
Bitcoin Miners Have to Sell
Miners have to expend energy and buy gear and this is why they are said to be mandatory sellers. Miners, therefore, have to move coins to crypto exchanges for cash to pay for services such as electricity or chipset manufacturers to remain competitive.
Since the Bitcoin network is transparent and all movements can be tracked, dedicated analytics' platforms and traders often monitor their activities. Recent data points to these miners moving coins, possibly to exchanges for cash.
The spike from -0.85 to +3.25 coincides with the stalling of Bitcoin prices below $21,500. This retracement follows a sharp expansion that saw the coin power above $20,000 with increasing participation levels, as trading volumes show. 
Analysts said the revival is because of shifting macroeconomic factors, especially in the United States, and recent data shows that inflation is falling and labor conditions are firming after the effects of COVID-19.
Feature image by Andrey Rudakov/Bloomberg, chart by Trading View
Products You May Like